Shon's Story in Song... "The Blessing"
Biography
Shon was born 2 ½ months prematurely. He was in intensive care for 6 weeks. The doctors gave his parents the option of "no heroics", since he had a 50% chance of survival. His parents told the staff to do their best to save him.
At around seven months of age, Shon was diagnosed as having cerebral palsy. His parents were not Christians at that time, and the news was devastating to them. Through all of the trials, God brought some born again Christians into their lives and, finally, when Shon was 2 years old, they gave their lives to Jesus. Shon's sisters, Heather and Kristy, were born in 1984 and 1986.
Shon was mainly home-schooled until graduation from high school, although he did spend some time in public school special education programs. In his last two years of high school, he participated in the choir and Bible classes at Brethren Christian High School. He then attended two Christian universities and participated in their choirs.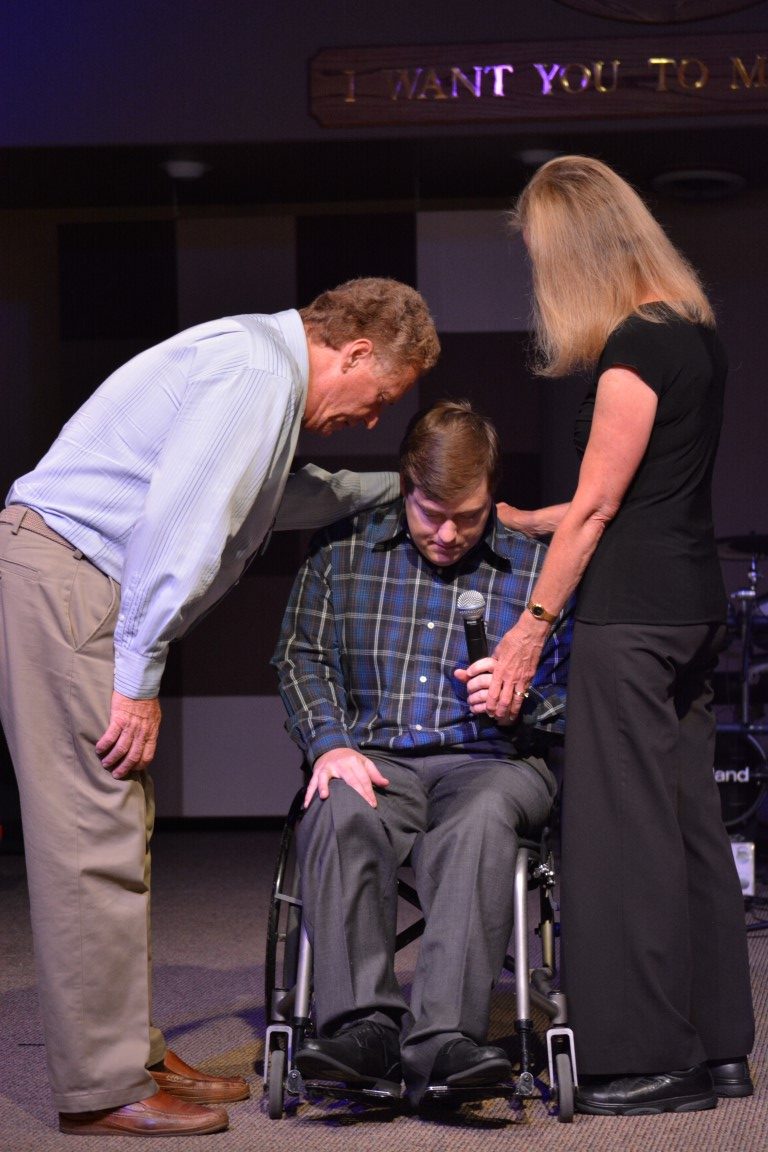 Shon's parents said he has had a singing spirit ever since he was a young child. As he matured, he began to sing in churches & schools, rescue missions, & convalescent homes. At age 13, he began to travel & minister with Dr. John Trent, of Strong Families Ministry. He sang at seven Promise Keepers events (the largest audience being 63,000), and four Heritage Keepers conferences. In 2009, he sang in Zamora, Mexico in the fund raiser event for their disabilities center. In May of 2011, he joined Dr. John Trent's ministry in launching Music That Blesses Others.
It is Shon's desire to spend his life singing for the Lord, bringing strength & encouragement to others.
Shon was born 2 1/2 months prematurely and has cerebral palsy as a result. Through this, God brought about the salvation of Shon's parents, who, in turn, led Shon and his sisters to the Lord.
Shon Stewart began singing publicly at age 11. He sang at churches, and two of his solos were played world wide on Children's Bible Hour. He participated in a radio program called "Puppet Factory" through Calvary Chapel, Costa Mesa. In the following years, his ministry expanded to include schools, rescue missions, homes for the elderly, and the Orange County Fair. He also performed with Mary Rice Hopkins at a fund-raiser event.
He performed at a number of Promise Keepers conferences, Heritage Keepers conferences, and Heritage Builders at Focus on the Family.
In Zamora, Mexico, Shon sang in their fund raiser event for their disabilities center.
Shon sang weekly at homes for the elderly, and periodically at churches and other events.
Shon hosted Music That Blesses Others with Dr. John Trent's The Blessing Challenge, Focus on the Family, and others.